With the newly developed reference point systems from Rothbucher Systeme, pencil marks and nails for point determination are a thing of the past! Thanks to the fixed points RSFP-X80 and RSFP-X90 you get a reference point for the 21st century.
The RSFP-X80 and RSFP-X90 fixed points are survey points for all common surveying equipment such as total stations, robotic and manual total stations, scanners and drones and can be used in all trades. The fixed points can be screwed, drilled or glued to all common surfaces. When aligning prisms, reflective targets, scanner spheres or target boards in different directions, the survey point remains identical, allowing it to be used from multiple sides. The RSFP-X80 and RSFP-X90 fixed points simplify your BIM process for all high-end instruments and make it more efficient.
The other advantages are numerous: you achieve higher and tested precision. Long-term monitoring becomes safer and less expensive. You stick the fixed point, but no expensive instrument remains on site. You take the prisms or targets with which you perform your measurements with you again.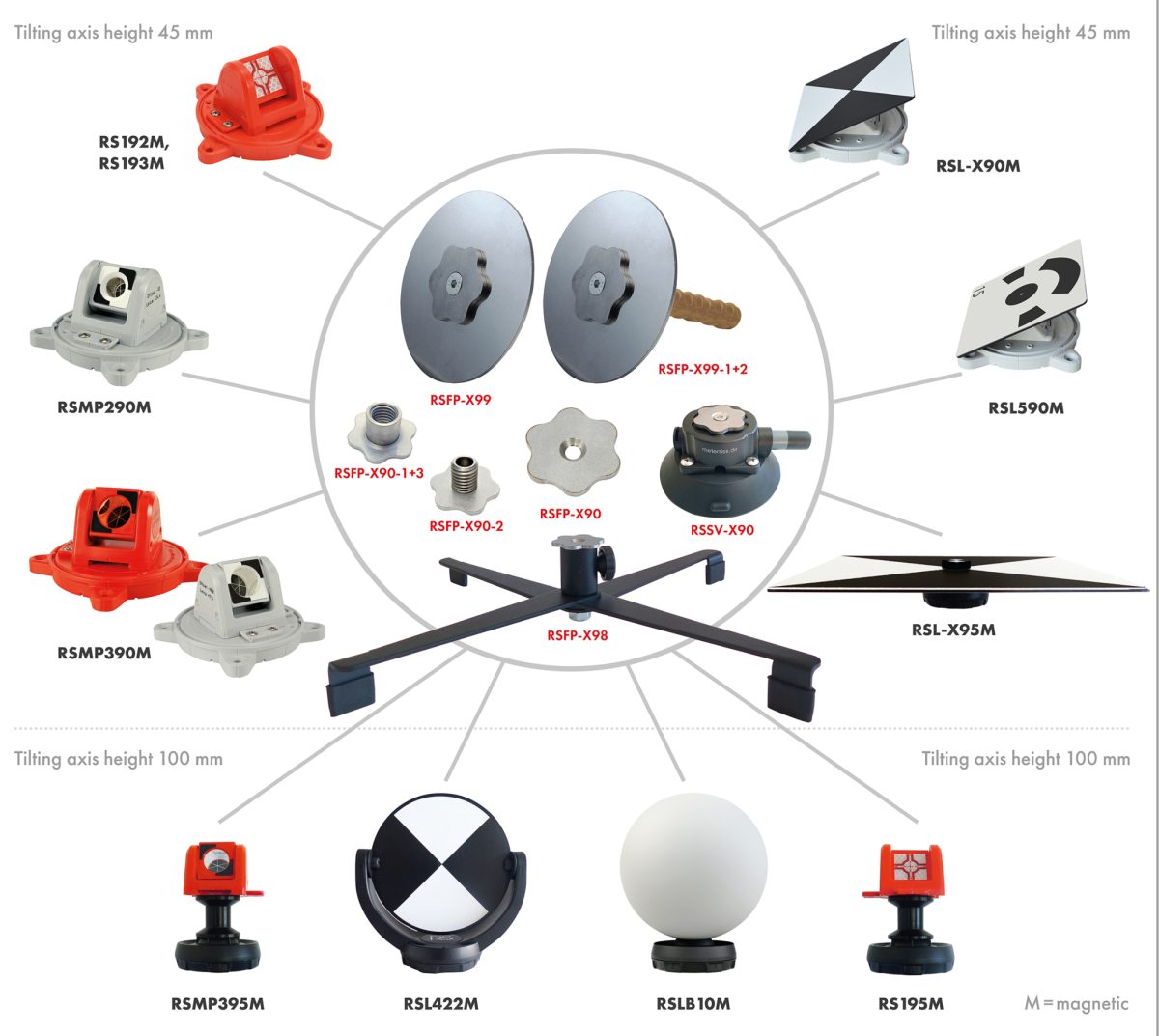 The differences between the reference point systems are quickly explained. The RSFP-X80 is a plate to which various adapters and the prism are attached with a click. The surveyor is free to choose what he puts on it, he always gets the same reference point, accurate to the millimeter. The offset must be taken into account. With another click, the prism can be taken away again at the end of the day without being damaged. Thanks to the favorable price, the plate is left behind as a backup and can be used again for a second measurement.
The new RSFP-X90 comes in several variants: Once as a fixed point for all RS products with a magnetic base plate, then as a separate version with a 5/8" internal thread, further with a 5/8" external thread. With these variants, you can attach all RS products with magnetic base plates when used with a tripod or tribrach with a corresponding UNC thread.
In short, Rothbucher's reference point system gives you an extremely flexible, efficient and affordable solution for point determination in surveying and construction. With a wide range of accessories adapted to the two fixed points, pencils and nails are a thing of the past.
The Rothbucher reference point system is distributed by Josef Attenberger GmbH, who will also be happy to advise you. You can find more information at www.attenberger.de.