Dear attendees,
As the patron of INTERGEO, it is my pleasure to cordially welcome you to Berlin this year for the world's leading convention and trade fair for geodesy, geospatial data and land management.
Geospatial data is becoming ever more significant in areas including housing, mobility, sustainability and climate policy – to name just a few. This year's theme, Building Information Modeling (BIM), clearly reflects the growing importance of geospatial data. There are also important issues to address in the fields of internal security, monitoring for disaster management and prevention, and achieving equivalent living conditions between regions. All of these fields need a reliable and rapidly accessible foundation of spatial information. We also need a solid base of expertise so we can use this information to develop strategies and shape a shared, liveable future.
This broad range of tasks reminds us how important it is to ensure that geospatial data is available and accessible. The Open Data Strategy plays a key role in this area, as does the recruiting and training of skilled workers.
I wish INTERGEO 2023 every success and I hope that all who attend will be inspired by new insights and stimulating discussions.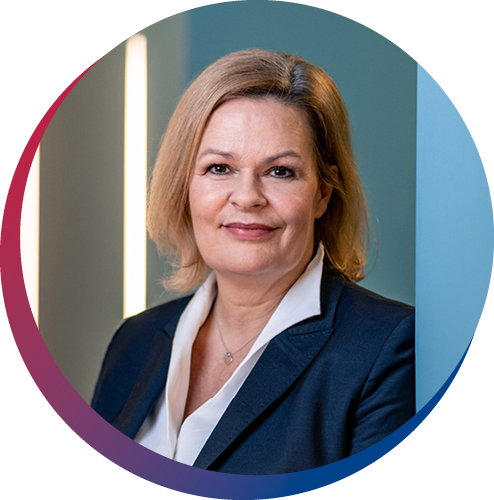 Nancy Faeser, Federal Minister of the Interior and Community